The Chairman
A call to action
Every 6 seconds someone, somewhere in the world is suddenly and tragically killed due to injury. In fact, injury takes 5.8 million lives every year, causing about 9% of global deaths. Every death creates a hole in the lives of family, friends and communities left behind. Many of these are young lives; injury is the leading cause of death for people under 40 years of age. Rural communities and developing countries suffer significantly higher rates of injury-related death.
For every death from injury there are dozens of hospitalisations, hundreds of Emergency Department presentations and thousands of medical appointments. Some people suffer long term or permanent physical or psychological disability because of their injuries. Yet these sad statistics under-estimate the harm caused by injury. There are many hidden causes of injury that are not well counted. It is estimated that one in three women are victims of violence at the hands of someone they care about, and one in four girls and one in ten boys are sexually abused at some time in their childhood. These traumatic experiences leave scars that can last a lifetime, increasing the risk of depression, suicide, failure at school, unemployment, imprisonment, unwanted pregnancy, sexually transmitted disease, smoking, drug use and other risky behaviours. In turn these behaviours increase the risk of trauma, cancer, cardiovascular disease, diabetes, liver and other chronic diseases. We cannot, and we should not, accept this needless suffering and loss in our communities.
The good news is, there is much that can be done.
Injury is predictable, and therefore largely preventable. Local communities can take control of their own destinies and reduce the burden caused by injury and crime, and so increase their safety, wellbeing and productivity. In fact, research suggests that communities who focus on this problem can achieve reductions in injury deaths and hospitalisation of up to 30%.
However, the task is not easy. Effective action requires committed community networks. These networks can identify, mobilise and coordinate community resources. They can blend the knowledge and expertise of researchers (experts in what to do), practitioners and administrators (experts in how to do it) and the community itself (experts in what will work for them).
ã BJSM 2012, Hanson et al., Research alone is not sufficient to prevent injuries.
One way to ensure effective community action is through the International Safe Community approach, is by weaving together best evidence and practice in community development and public health. The Safe Community approach to effective community-based health and safety programs has seven indicators of best practice:
Seven indicators of effective community development and public health programs
The International Safe Community Certifying Centre (ISCCC) offers a system of peer review, helping communities implement best evidence in their community in a way that is likely to produce measurable reductions in injury in the long term.
More than 20 "International Safe Community Support Centres" assist the communities as they seek to implement evidence informed programs. A Community that can demonstrate evidence of best practice is designated an "International Safe Community", a model community that other communities can emulate. The authorised certifiers from ISCCC (acknowledged experts in the Safe Community approach) are the human face of the peer review process of continuous quality improvement.
We have made a great start. Since our movement began in 1989 nearly 400 communities across the world, covering over 100 million people, have joined in our vision to make the world a safer place to live, work and play … one community at a time.
With your help, we can do even better. Every life saved, every person rescued from injury or abuse, is precious… one less hole created in the lives of communities, friends and family
Associate Professor Dale Hanson
BMBS MPHTM MClinEd DrPH FRACGP FACEM
Chair International Safe Community Certifying Centre
October 2017
Reference
Injury and Violence: The Facts
WHO, 2014
International Safe Communities – and the WHO

The Safe Communities concept was originally launched as an official World Health Organisation (WHO) term in their General Program in the end of the 1980's. The co-operation between WHO and the Safe Community Movement started in 1986 and began its formal existence at the First World Conference on Accident and Injury Prevention held in Stockholm, Sweden in September 1989 sponsored by the WHO.
The conference published a "Manifesto for Safe Communities" stating;
"Equal right to health and safety- a fundamental premise of the WHO's 'Health for All Strategy' (1981) and also of the WHO Global Program on Accident Prevention and Injury Control – can be achieved only by reducing injury hazards and by reducing the differences in accidents and injury rates among groups of different social levels. … Community-level programs for accident and injury prevention – "Safe Community" programs – are key to reducing and preventing injuries."
The WHO was a signatory to the Manifesto.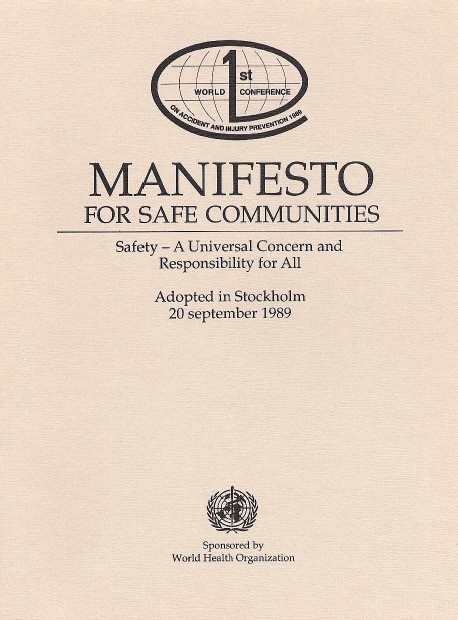 The Manifesto mirrored the WHO's Ottawa Charter for Health Promotion (1986), emphasising that health and safety are important resources for everyday life, not just an objective of living. They are positive concepts emphasising social and personal resources, as well as physical capabilities. Therefore, health and safety promotion are not just the responsibility of the health sector. They go beyond healthy and safe lifestyles to the wellbeing of people and the communities in which they live. Five domains of activity are important.
The Karolinska Institutet, Division of Social Medicine, Sweden was designated a WHO Collaborating Centre on Community Safety Promotion (WHO CCCSP) during the conference formalising the link between the WHO and the movement. Building on the fundamental principles of WHO policy outlined above the International Safe Community movement thrived under the WHO CCCSP leadership, supporting the establishment of Safe Communities on every continent of the world, Regional Networks and Safe Community Support Centres. As the WHO CCCSP increasingly focused on network support and quality management for the International Safe Community movement it was timely for the International Safe Community to mature and become an independent Non-Government Organisation (NGO) culminating in the establishment of the ISCCC in 2015.
Accordingly, the ISCCC must re-establish its own relationship with the WHO as an NGO. A process that takes some years. Our application to establish formal relations with the WHO was submitted in 2016 and revised in 2017 based on suggestions from the WHO.
The objectives of the ISCCC and the WHO remain closely aligned with a shared goal of implementing community-based, effective, evidence informed inter-sectorial injury prevention and safety promotion programs across the world as we work together to achieve the United Nations Sustainable Development Goals (2013).
It should be noted that a formal relationship only existed between the WHO and WHO CCCSP. Individual Safe Communities were designated by the Collaborating Centre – and more recently by the ISCCC – not the WHO. Safe Communities are not, and have never been, entitled to call themselves WHO Safe Communities.
About the Chair
Dr Dale Hanson graduated from Flinders University of South Australia in 1982, initially pursuing a career in Family Medicine, and subsequently in Emergency Medicine. From 1986 to 2016 he worked as Staff Emergency Physician at Mackay Base Hospital, in regional Queensland. He is currently Director of Rural Generalist Training in the Queensland Rural Generalist Pathway. He is an Associate Professor (Adjunct) with the College of Public Health, Medical and Veterinary Sciences at James Cook University, Australia.
Concerned at the high rate of injury in the region, he developed an interest in injury research, safety promotion, and social network analysis, completing his Masters Degree in Public Health and Tropical Medicine in 2000 and his Doctorate in Public Health at James Cook University in 2007. He was awarded a university medial (cum laude) for his doctoral dissertation "Community Safety Promotion Networks: From Metaphor to Methodology".
His paper describing the development of Social Capital in Mackay Safe Communities was judged the best oral presentation delivered at the 8th International Injury Prevention and Safety Promotion Conference held in Durban South Africa. He has received the biennial Australian Injury Prevention Network Award for Meritorious Practice in Injury Prevention in 2003 and the International Safe Communities Distinguished Career Award in 2017.
Dr Hanson is a founding member of Mackay Safe Communities and the Australian Safe Communities Foundation and Chair of the International Safe Communities Certifying Centre.